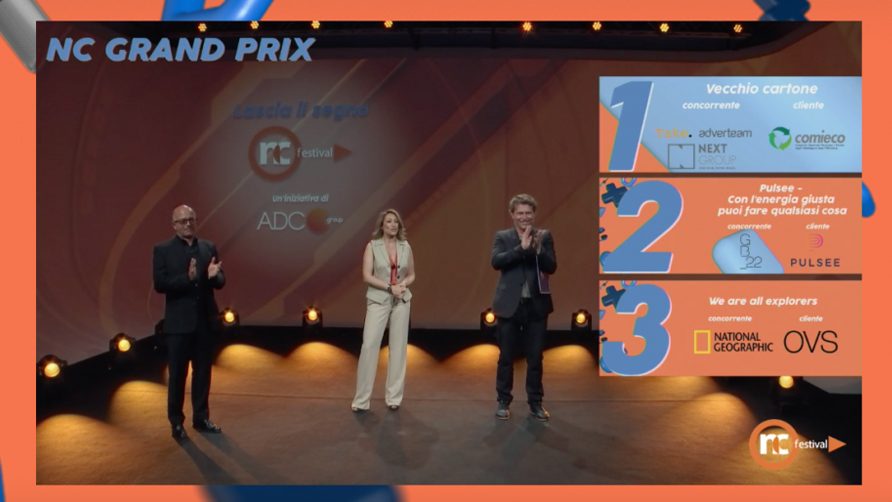 Adverteam wins the Grand Prix at the NC Awards 2021 with the "Old Cardboard" campaign
Next Group reported a great success at the ADC Group's NC AWARDS 2021: Adverteam wins the grand prix with the multichannel "Old Cardboard" campaign created for Comieco, the National Consortium for the Recovery and Recycling of Cellulosic-based Packaging.

The goal of improving the quality of paper and cardboard collection for recycling is combined with the insight that people are more willing to correct their faults and memorize virtuous behavior when irony and music are involved.
This is how "Old Cardboard" was born, a song written and produced by Elio e le Storie Tese and the cornerstone of a campaign that traces all the bad and good habits in paper and cardboard recycling in an ironic and catchy way with unparalleled lightness and brilliance.
Further communication contents develop around the song in a holistic way: a video clip made in stop motion, a press and radio campaign (media partnership with RTL 102.5), digital advertising and content creation for Comieco owned media (FB, IG) with quizzes, games and animations.
The strategy worked well: the KPIs in the two weeks the campaign was on air (14-28 December 2020) testify to an increased awareness on the part of Italians: 100K page views + 67% new users to the Comieco website, + 151% visits to the "collection rules", 823K views for 611K users, + 43% subscribers to the YT channel.
The "Old Cardboard" campaign also won 3 gold medals for best press campaign, best digital interactive advertising campaign and best holistic campaign/services of public interest. Adverteam also won the Bronze as Best Holistic Agency.
"We are particularly pleased with the award for the best holistic campaign because it is the demonstration that our group, with its variety of approaches and its qualified professionals, represents a unicum on the communication market" declared Alberto Damiani, Creative Director at Adverteam.
"These awards confirm the importance of the synergy between complementary professional and creative skills, that have always characterized our group", said Marco Jannarelli, President of Next Group. "This achievement fills us with enthusiasm and projects us towards even more ambitious horizons".
More Integrated & Digital Communication news