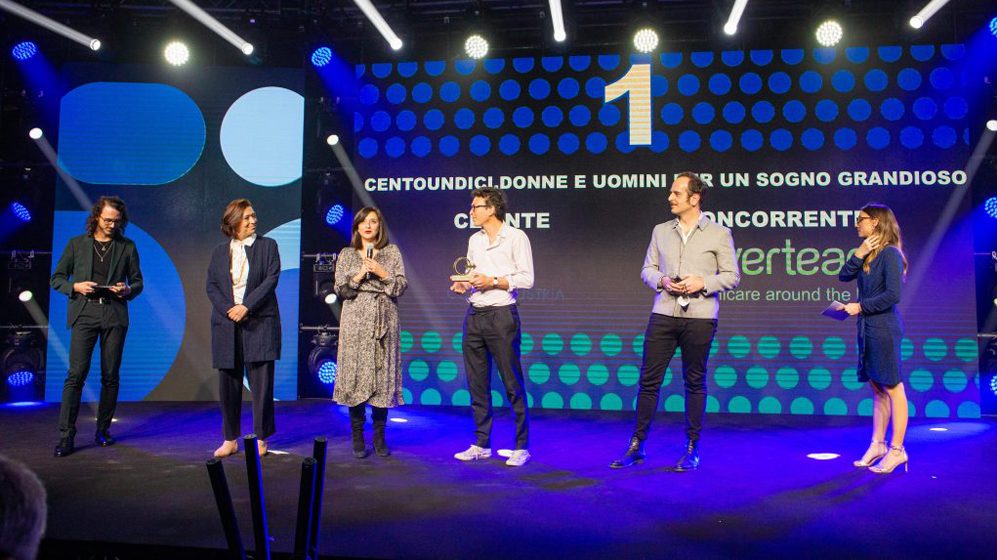 Adverteam wins gold at the branded Content & Entertainment Awards 2022
Adverteam wins gold at the branded Content & Entertainment Awards 2022 with the author short film "ONE HUNDRED AND ELEVEN. WOMEN AND MEN FOR A GRANDIOSE DREAM" by confindustria

The short film "ONE HUNDRED AND ELEVEN. Women and men for a grandiose dream" produced for Confindustria wins in the "cinema, short film, documentary" category.
"The frontier of branded content has yet to be fully explored in all its potential. For this reason, I take this opportunity to thank Confindustria which decided to entrust such an important story to an unconventional medium such as an auteur's short film". So commented Alberto Damiani, Creative Director at Adverteam, upon winning in the "cinema, short film, documentary" category at the Branded Content & Entertainment Awards 2022 organized by ADC Group, the main Italian award dedicated to entertainment, information or educational editorial content and projects, produced or co-produced by a brand to communicate brand values.
Next Group is proud to acknowledge the appreciation of the branded content created by Adverteam for Confindustria by company directors, communication managers, representatives of the most authoritative industry associations who were part of the Jury: an auteur short film to reflect on the great contemporary themes. "A tale of true stories where authenticity is used to also reflect the feelings of the younger generations, a short cinema-quality film with a strong and memorable emotional impact", commented Salvatore Sagone, president of ADC Group.
"ONE HUNDRED AND ELEVEN. Women and men for a grandiose dream" was part of a larger project, "ONE HUNDRED AND ELEVEN. CONFINDUSTRIA ASSEMBLY 2021" (winner of the third place at the Best Events Awards 2021 in the meeting/convention category); it was directed by Luca Lucini, produced by Maremosso (controlled by The Family), and featured Alessio Boni, Cristiana Capotondi, and Giorgio Colangeli.
The film is not just a story about the effects of COVID on everyday life. It also evokes the enterprises' capability to be today, just like they were in the post-war period, the country's restart engine, to "do what needs to be done". A civil commitment and a sense of responsibility that has led them, despite the serious crises that have followed one another over the years, to keep the factories open to provide work and income and to win the challenges on the markets. Up to become community factories, making their offices and structures available as vaccination hubs. At the same time, the short film is a tribute to the one hundred and eleven people who worked on the making of the film, affected by a two-year pandemic, and forced to stop working. Artists and professionals representing all those working every day behind the scenes, indispensable for the making of a film, a show, a concert, or a festival. They represent a fundamental piece of Italian industry as for their social, economic, and occupational functions. Finally, "One hundred and eleven" are also the years since the foundation of Confindustria, which wrote essential pages on Italy's social cohesion and economic growth. An Italian story for Italians, premiered at the 78th Venice International Film Festival.
More Integrated & Digital Communication news